Pella Christian ends Bulldog title dreams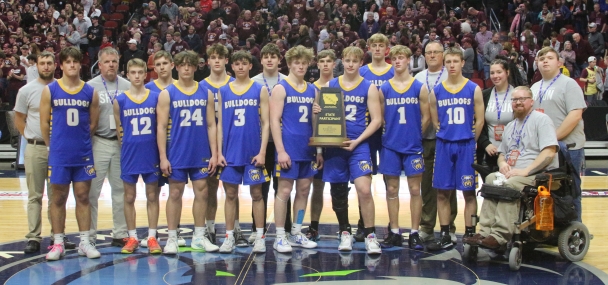 news@outlooknewspaper.com
DES MOINES – Pella Christian used a seven-point fourth-quarter surge to pull away and went on to top MFL MaMac 61-54 in a Class 2A state tournament quarterfinal Monday night at Wells Fargo Arena.
The Bulldogs (24-2) closed what had been a nine-point third-quarter deficit to two, 49-47, on a Carver Blietz-Bentien three-point play 44 seconds into the fourth quarter. Pella Christian (20-6) answered with a layup 18 seconds later and went on to build its lead to 56-47 in the next two and one-half minutes.
The Bulldogs trimmed the Eagle lead to five points, 59-54, with 1:41 left and had chances to close even closer but could not get shots to fall.
Shooting against Wells Fargo Arena's deep backdrops proved to be MFL MarMac's Achilles heel, as it shot just 36.7 percent in the game, including 4-of-18 from 3-point range. The Bulldogs lost despite out-rebounding the taller Eagles 36-34 and committing just eight turnovers on the night.
The Bulldogs opened the game with an 11-3 surge and led as late as the 2:30 mark of the second quarter. Pella Christian closed the first half on a 15-4 run to take a 38-31 halftime lead.
Zach Driscoll paced the Bulldogs with 22 points and eight rebounds while Blietz-Bentien scored 15 and pulled down seven boards. Parker Kuehl addced eight points, Hunter Meyer four and Wyatt Powell one.
More photos and a complete recap of Monday's game will be printed in the March 15 edition of The Outlook.
Category:
The Outlook Newspaper
The Outlook Newspaper
104 W. Center St.
PO Box 310
Monona, IA 52159
Phone: 563-539-4554
Mid-America Publishing
This newspaper is part of the Mid-America Publishing Family. Please visit www.midampublishing.com for more information.