June "Junebug" Violet Freilinger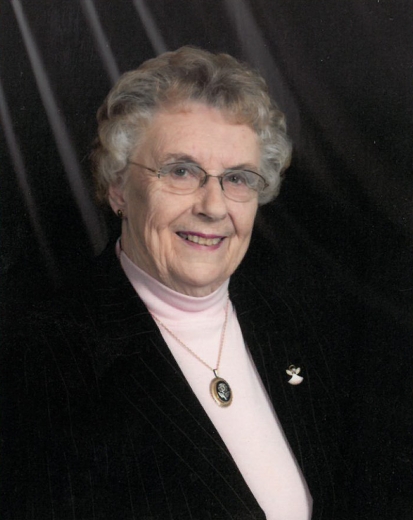 MONONA — June "Junebug" Violet Freilinger, 93, of Monona died Friday, June 16, 2023 at Ossian Senior Hospice, Ossian.
A Mass of Christian Burial was held Thursday, June 22 at St. Patrick Catholic Church, Monona with Rev. Martin Coolidge as the Celebrant. Burial was at St. Patrick Catholic Church Cemetery, Monona.
June was born June 10, 1930 to Leonard and Freida (Schmidt) Hofeldt in Milboro, South Dakota. She graduated from Winner High School in 1948 and attended two years of college in Minneapolis, Minn.
On Sept. 22, 1951 June was united in marriage to Roderick Joseph Freilinger at St. Patricks Catholic Church in Monona. Six children were born to this union. They made their first home in Yuma, Ariz. until Rod was discharged from the Air Force. Upon being discharged they then moved to Frankville, where they farmed for several years until Rod started Freilinger Construction.
June then did the secretarial duties for Freilinger Construction and raised six children and a large garden. She enjoyed sewing, gardening and canning for her family. Rod and June had many good times with the Volney crew and surrounding neighbors. They also traveled to many LICA conventions. She taught CCD, was a member of the Rosary society and a Catholic Daughter.
Upon raising her family, she then took a job cooking at Pink Elephant, Crow's Nest and then the Boat, where she met many people and so enjoyed cooking and joking with the busboys and cooks. "Junebug" as many people knew her, loved to joke and enjoyed people. She enjoyed her church activities and traveling with the Heritage Club, taking several trips over seas. June loved to travel and enjoyed her annual trips "out home" to Millboro, S.D. South Dakota, and her family still residing there, were always very special to her. She knew that road well!!!
Most of all "Junebug's" proudest moments were when all her family was around her. She loved her birthday parties where everyone was together, always commenting "Look What I Did!" June made each of her grandchildren a jean quilt sewn with all the love she could give. She enjoyed taking her grand kids on outings. Always a good treat at Grandmas! She put her cooking skills to good use serving her family some fabulous meals. June truly loved all 85 of us, and was blessed with all the Junebug trinkets we could find!
June will always be remembered as "Junebug", with her very caring heart, her joking personality and always thinking of others before herself. June loved life and people. Her family invites you to visitation.
Surviving June are her children, Brad (Cheryl) Freilinger of Monona, Barb (Ron) Moellers of Ossian, Brian (Brenda) Freilinger of Decorah, Bonnie Lange of Monona, Beverly (Brent) Blanchard of Guttenberg and Beth (Jake) Sweeney of Monona; 16 grandchildren, Heather (Chad) Bettman, Angie (Brent) Mohs, Reggie (Sarah) Freilinger, Elizabeth (Brian) Riley, Dustin (Katie) Moellers, Dereck (Starlette) Moellers, Devin (Carol) Moellers, Randy (Melissa) Freilinger, Brent (Jamie) Freilinger, Blake (Brenda) Lange, Melissa (Matt) Egan, Matt (Shauna) Lange, Marshall (Leah) Lange, Emily Blanchard, Bradley Sweeney and Jason (Maddi) Sweeney; a multitude of great-grandchildren and many nieces and nephews.
June was preceded in death by her parents, Leonard and Freida Hofeldt; husband, Roderick Freilinger on Oct. 26, 1982; son-in-law, Dave Lange; three grandchildren, Shane Rodas, Eric Rodas and Dexter "Doc" Lange; and two brothers, Lee (Joann) Hofeldt and Loren Hofeldt.
Leonard-Grau Funeral Home and Cremation Service, Monona is helping the family with the arrangements.
Category:
The Outlook Newspaper
The Outlook Newspaper
104 W. Center St.
PO Box 310
Monona, IA 52159
Phone: 563-539-4554
Mid-America Publishing
This newspaper is part of the Mid-America Publishing Family. Please visit www.midampublishing.com for more information.