Donald John Baade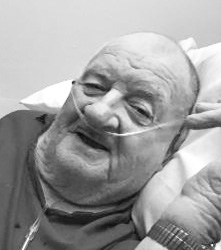 Donald John Baade, 84, formerly of Luana, died July 14, 2020 at the Good Samaritan Society, West Union. Graveside services were held Saturday, July 25 at 1:30pm at the St. John Lutheran cemetery, Luana with Pat Malanaphy, Hospice Chaplain, officiant. Lunch followed at the home of Matt and Emily Baade.
Donald, the first child of Merrill and Leona (Lembke) Baade, was born December 2, 1935 north of Monona, Iowa. He was baptized at the home of his grandparents and confirmed at St. John Lutheran, Luana. Don attended school at the Hickory Creek School, Luana School, and Postville School.
Don married Christine Mary Meyer June 4, 1955. They were blessed with three children: Michelle, Lonnie, and Arlin.
Don was a farmer, did custom farm work, then became a truck driver, logging nearly 7 million miles.
Don's mission in life was to promote healthy, organic, chemical-free food. He enjoyed playing cards, dice, and checkers. His love and concern for family was foremost in his life.
He is survived by his wife of 65 years, Christine, sons Lonnie (Vicky) of Luana and Arlin (Elaine Hanson) of West Union, son-in-law, Larry Krugger of Luana, grandchildren: Travis (Shanda) Spiker, Lance Spiker, Matt (Emily) Baade, Tina (Mark) Gallion, great- grandsons Bryant (Liliana), Carson, Dawson, and Ashton Spiker, great-great grandson Austin, and baby Spiker due in October, as well as several grandchildren-of-the-heart. Also, sisters and brother Anita Schlitter, Lester (Janet) Baade, and Verla (Bill) Walker, and sister-in-law, JoAnn Meyer, along with many nieces and nephews and one cousin.
Don was preceded in death by his parents, daughter, Michelle, granddaughter, Victoria, and brothers-in-law Eugene Schlitter and Jerome Meyer.
The family would like to thank the Good Samaritan Society, West Union and St. Croix hospice for their kind and compassionate care.
Category:
The Outlook Newspaper
The Outlook Newspaper
104 W. Center St.
PO Box 310
Monona, IA 52159
Phone: 563-539-4554
Mid-America Publishing
This newspaper is part of the Mid-America Publishing Family. Please visit www.midampublishing.com for more information.